My heart hurts. It hurts with a pain that only a mother can feel when her heart breaks for her children.
I write this in the moment to release the feelings that have been building -- literally -- for years. I know in this moment of pain that a moment of joy is nearby -- God is good ALL the time -- and so I write this now, while I am feeling what I am feeling.
It's odd, knowing what your own mother may have felt for you at some point in her mothering journey. Being able to identify is what links us as humans, as family.
I have yet to understand what makes some people "friend magnets," while others are stuck watching from outside, noses pressed against the window panes.
......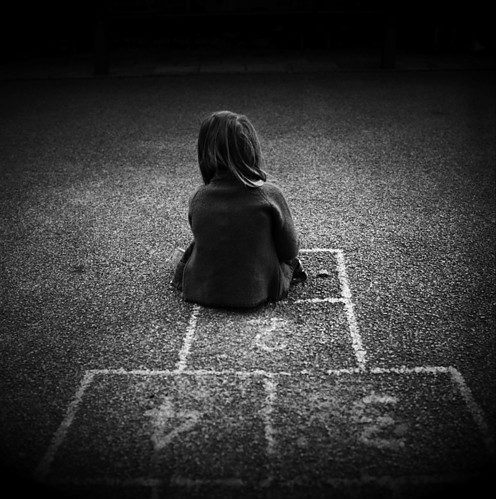 That moment that your daughter looks at you and says, "If I were beautiful, people would want to be friends with me."
There is no answer to this. I think she is already beautiful. Her father thinks she is already beautiful. Her brothers think she is already beautiful, as do her grandparents and aunts and uncles and many, many adult friends.
And, lest you think this is a self-pity plea of support, it is not...it is exactly what is happening in the life of a young girl, spreading her wings and trying desperately to fly among her peers, hoping to find a -- even just one -- friend to glide above the treetops with.
How do you answer this? What do you say?
God made you absolutely perfectly, sweet girl. You are absolutely loved and cherished.
But not necessarily by anyone your own age. And I don't understand why either.
This isn't a story of friendships lost in silly tiffs. This isn't a girl who hasn't been kind (though she isn't perfect and probably has had her moments of unkindness, conscious and unconscious).
This is a case of a girl, desperate for friendship, who finds that no one really wants to be with her. Or, when they do, it's only if nothing better is happening.
Many would claim it's because we chose to school her at home. I'd agree, if I hadn't experienced the same issues when I attended public school in a brick-and-mortar school. Or if we hadn't paid lots of money having her participate in a homeschool group in order for her to have "socialization."
But, as it turns out, this homeschool group did nothing but begin this process of "learning" about life and the erosion of her self-esteem.
Girls who excluded and verbally bullied her, asking her if she was special ed or autistic. Scoffing at her when she sat with them at "their" table. She moved to the boys' table...and eventually experienced the same thing when they suddenly reached the age of wanting to "be cool." She tried the girls' table again...and finally chose to sit alone. Where was the teacher in all of this? Oblivious. Or, worse, criticizing her artwork and telling her she couldn't draw, so why bother. In
third grade
. When she was
8 years old
. She'd tell me what was happening, and I'd try to encourage her. I'd tell her she needed to try to "toughen up" (isn't that what the old experts say?). Don't wear her heart on her sleeve. Any number of clichéd platitudes. I'd speak to the teachers, who would still be oblivious and say she was fine, doing well. Did they see her pain? Did they see her loneliness? All the while, my heart broke for her. Finally, we stopped going.
Then came Sunday School and youth group. Church should be the place of refuge. A place where she should have found some comfort and love from fellow students. (Of course, it is full of sinners. We're all sinful.) She fled from Sunday School one time when she went to sit down at a table of girls, and they all moved around so there was no room. No one -- not even her teachers -- wondered where she went. Then another time she went to sit on the big beanbags only to have the others race ahead and make sure every one of the them was filled. No room for you, sweet girl. We talked to the youth pastor, asked him what we could do. He said to toughen up. Kids'll be kids. We talked to her teachers, but they were oblivious. We eventually moved churches after we began to experience the same treatment as adults.
It turns out that youth group is only for the popular. If you're not popular, you mean nothing so don't bother coming. And, B-T-Dubs, we won't miss you. (Popularity has no place in the church. Ever.) Not even serious health issues made anyone rally around her. She was talked over. Kids walked away when she was mid-sentence. Someone even said to her, "They only do that because you're not very interesting." We talked to the youth pastor, asked him what we could do, how we could change this -- expressed how sad she felt at youth group. He told us that sometimes you have a group of friends you're comfortable with. You don't really want any new friends. So look for others who don't have that yet. Or translated: Toughen up. Youth group, in his mind, is for the unsaved. The group is constantly changing, so he wants to draw the ones in who don't know Jesus. You others? Do you want love and support and prayers? Too bad.
Dance class.
Glasses made everything change for her. She could see again....but she could see the backs of the girls who wanted nothing to do with her. We got her contacts. Nothing changed. Even the teachers didn't like her. I sat outside a classroom one time. All I heard was the teacher yelling her name. Over and over. She tried out for company
three times
. She never got accepted. They didn't want her. Toughen up, everyone said. You have to toughen up if you want to make it in life.
She started an online group for cyber schoolers, trying to give them friendships in the forum they all felt most comfortable: online. She seemed to make some nice friends. Then one guy joined and decided he wanted to control the group. Like putting poison in a well, he killed the group. The things he and another girl wrote to her -- witnessed by Stuart and me -- were wrong. These kids were lauded by others in the group, even the ones who initially felt on her "side." They were blocked from the group, but the damage was done. The group unraveled and friendships changed. Sometimes it's hard to know exactly what is meant in typed words since there is plenty of reading between the lines...but there was not doubt with this.
At school, she started an online newspaper in March. She organized it all and ran it all. By the time she resigned as editor-in-chief, she had 115 members and 8 advisors. She left in November after a 45-minute phone call from a school board member, chastising her for forgetting her story (well past the point of publishing even before the newspaper started) in the previous issues. This board member saw it as racist and exclusive. It was apparently unacceptable. It was impossible to understand why this woman's knickers were in such a twist, but she managed to get the other school staff members on her side, changing the intension of the newspaper as a means for students to write and get their news out into a pet project for her. Ridiculous.
.......
It's hard when you march the beat of a different drum. It's hard to feel like the "ugly duckling," being different from the rest. You desperately want to find someone, anyone who is like you. Like Anne of Green Gables, you just wants a bosom buddy, someone who will be there.
Don't tell me your child has been there if your child has had at least one good friend in her life. Our daughter has not. While visiting her, her friends have texted with other friends or boyfriends, talked over her, invited other friends to join the visit, phoned other friends, or changed their plans because something better has come up.
Stuart won tickets to a local baseball game this summer. We thought it might be fun for her to ask some of her friends to go. She asked them about a month ahead of time. Not ONE responded. A week before the game she asked if they could go...they each casually told her it wouldn't work. She was crestfallen. If she'd known earlier, she could have asked others. In the end, the tickets went unused.
As a mom, I wish that I could fix this for her. I wish that I could understand. I tell her how proud we are of her...how much we think she's beautiful. But, while I know that she accepts this and loves us back, it isn't the same as someone her own age showing her the same feelings through friendship.
So my heart hurts.
But only for a little while.
For the director of music. Of the Sons of Korah. According to alamoth.[b] A song.
1
God is our refuge and strength,
an ever-present help in trouble.
2 Therefore we will not fear, though the earth give way
and the mountains fall into the heart of the sea,
3 though its waters roar and foam
and the mountains quake with their surging.[c]
4 There is a river whose streams make glad the city of God,
the holy place where the Most High dwells.
5 God is within her, she will not fall;
God will help her at break of day.
6 Nations are in uproar, kingdoms fall;
he lifts his voice, the earth melts.
7 The

Lord

Almighty is with us;
the God of Jacob is our fortress.
8 Come and see what the

Lord

has done,
the desolations he has brought on the earth.
9 He makes wars cease
to the ends of the earth.
He breaks the bow and shatters the spear;
he burns the shields[d] with fire.
10
He says, "Be still, and know that I am God;
I will be exalted among the nations,
I will be exalted in the earth."
11 The

Lord

Almighty is with us;
the God of Jacob is our fortress.